Whether your child is just starting out with basic addition and subtraction or they're ready to tackle more complex concepts within geometry and algebra, there's an app on this list that will fit their needs.
Maths is a critical subject for kids to learn, and one that can be notoriously difficult. That's why it's important to find resources that will make the learning process both enjoyable and effective. These 18 apps, with games, challenges, and interactive features will keep kids coming back for more.
Are math apps good for kids?
Maths apps are a great way for kids to learn and practice their maths skills in a fun and engaging way. They can also be used to supplement traditional maths education, providing extra help and practice outside of the classroom.
Studies have shown that educational apps can be beneficial for kids , with one study finding that kids who used educational apps showed significant learning gains over a 12-week period, as compared to those who did not use the apps.
The results found that structured, content-rich, interactive apps can provide a platform for efficiently delivering high-quality math instruction to young students and can effectively raise achievement in early math.
We know when used alongside traditional maths education, maths apps can be a powerful tool for helping kids to succeed and build maths confidence.
When considering an app for your child, look for one that is aligned with the maths curriculum they are learning in school and that is suited to their learning style. This will ensure that they are getting the most out of the app and that their skills are being tested in a way that is relevant and meaningful to them.
What are the best math apps for kids?
The best math app for your child is one that meets their individual needs. However, there are some key features that all great math apps for kids should have. These include:
A variety of games and activities: Games are a great way to keep kids excited about learning. Look for an app with a variety of dynamic games that cover different maths concepts.

Progress tracking: It's important to be able to track your child's progress so you can see how they are improving over time. Look for an app that tracks progress and provides feedback on areas of improvement.

Customization options: Personalized learning apps let you tailor the program to your child's individual learning needs. This could include adjusting the difficulty level or choosing which concepts are covered.

Engaging graphics and sound: Kids should enjoy using the app, and that means it should be visually appealing and easy to use.
With these features in mind, we've compiled a list of the best maths apps for young kids in 2023.
Our Favourites
1. Times Tables Speed Test
Our Times Tables Speed Test has been designed for anyone who wants to practise their mental agility. Once students understand various multiplication strategies, (we suggest by grade 3), they need to be able to recall their tables quickly and accurately. This app helps them do just that!
It's simple, free and a great way to identify where your strengths and weaknesses lie. After each round students can view their mistakes, so they're able to learn from them and improve.
There are 3 levels of achievement (bronze, silver and gold) and students must work against the clock to increase their scores and become a true multiplication ninja!
The easy-to-use interface makes it the perfect choice for students of all ages and given it works great on desktop and mobile, your child can now master their tables, anywhere, anytime—your welcome!
2. Khan Academy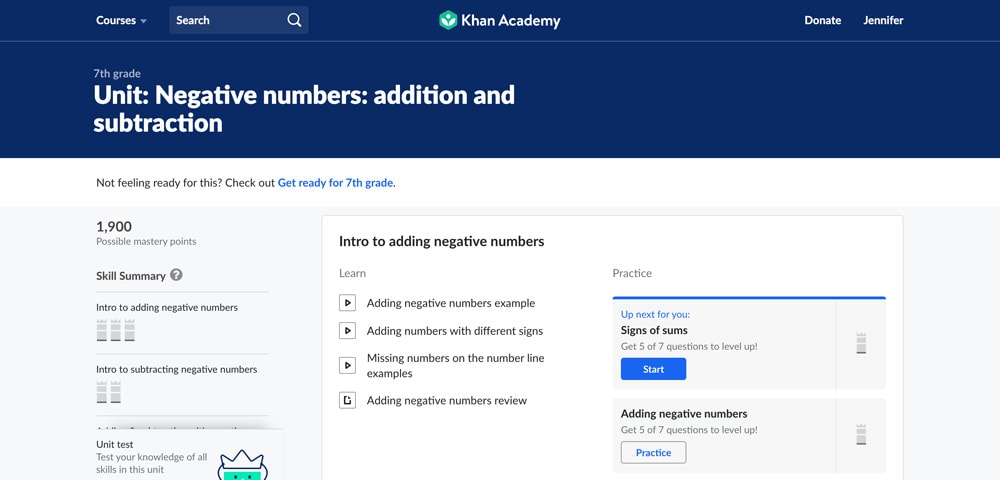 Khan Academy is one of our top picks for the best free math apps. It's packed with features that make learning fun and interactive, including instructional videos, challenges, and rewards. Although it isn't gamified, it covers a wide range of core math concepts, from arithmetic and basic algebra to geometry and measurement.
One of the best things about this app is that it's completely free to use. There are no ads or in-app purchases, so you can be sure your child is only focusing on their math practice. They even offer free lessons in other stem subjects like computer science and engineering.
Khan Academy offers a unique student dashboard that empowers learners to study at their own pace, take ownership of their journey and learn multiple skills. It also teaches children to think flexibly, solve problems systematically, and unpack their reasoning.
We love that this app is so comprehensive and well-rounded. It's an excellent resource for any major math topic, whether your child is struggling with a specific concept or just needs some extra review.
3. Prodigy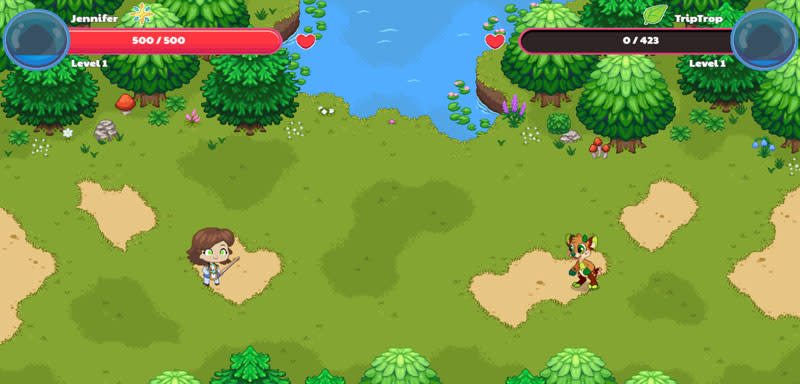 The Prodigy math game is designed for students in grades 1-8 and adapts to each child's individual level. The game features over 1,000 maths challenges and activities that kids can play at their own pace.
As they play, kids earn rewards that they can use to customize their in-game avatar and pets. The app also tracks progress and provides feedback so parents can see exactly how their child is doing. In terms of visual engagement, user experience and seamless integration of maths practice - it's one of the best out there.
While this fantasy-based math game, used by more than a million teachers, is a great way to ignite kids' interest in the subject, there are a couple of caveats, that you need be aware of.
First, the content is aligned with the US Common Core standards, and second, the app places a strong emphasis on gaming. As a result, we advise parents to use this fun app in conjunction with others on this list to provide a well-rounded math education for kids.
Gaming-heavy apps
4. Twelve A Dozen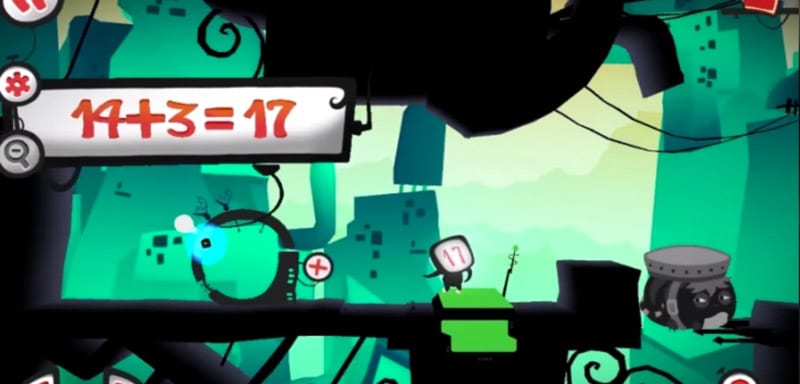 Twelve a Dozen is a stimulating 2D game that challenges young players to develop their number sense. The mathematical skills tested in the app suit mostly 10 to 14-year-olds, but the gameplay and design make it one of the best maths apps for primary school kids.
There are 50 levels that cover addition, subtraction, multiplication, and division. This progresses to negative numbers, factorising and even some algebraic operations.
The game is full of adventures, mazes, movement, and puzzles that strengthen arithmetic principles. It is the perfect tool for elementary students who wish to build their foundational math skills or develop quick mental maths strategies.
The most impressive part of Twelve A Dozen is how seamlessly the math concepts fit into the gameplay. As your child explores and completes mazes, they will be learning without even realising it!
5. Marble Math Junior
Marble Math Junior is a math app for kids aged 4-7. It's great for developing critical thinking and an engaging way for young kids to practice mental math.
Students must solve math problems by collecting numbers as they move their marble through a series of fun mazes. The game also has audio questions for emerging readers.
One awesome feature is the option to replay the question or show the correct answer, before moving on to the next problem.
6. Rocket Math
Rocket Math has been created to help kids build fluency in basic math skills. The app features a series of fast-paced games that test kids' speed and accuracy in addition, subtraction, multiplication, and division.
As kids play the games, they earn rewards that they can use to customize their rocket ship. There's a total of 26 levels, with mental math as the main focus, not necessarily conceptual understanding. For example, students must be able to answer math facts in 3 seconds or less to progress to the next level.
As such, this app is best suited for kids who are already confident with basic math skills and are looking for a challenge.
7. Monster Math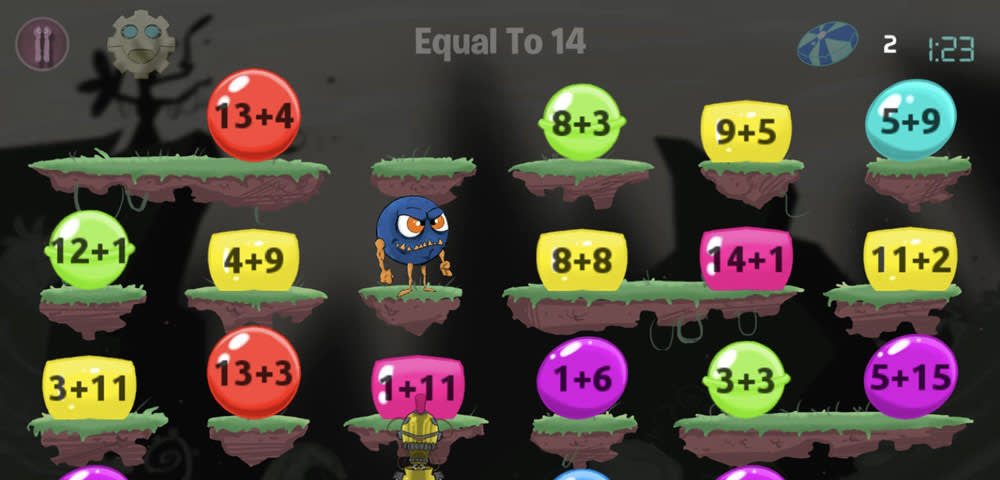 Monster Math is a math app for kids aged 2-8. It's great for developing confidence and helping your child fall in love with learning maths. Topics covered include the 4 operations, geometry, fractions and decimals.
Available on both the app store and google play, the app features loads of math games and activities. Students will love the 23 fun characters and storylines, spread across 4 worlds.
The game, which provides skill analysis and in-depth reporting, is designed to quiz multiple skills at once, encouraging students to make connections between different concepts.
Monster Math is free to download, with in-app purchases available for additional content.
Apps with Structured Content
8. IXL Math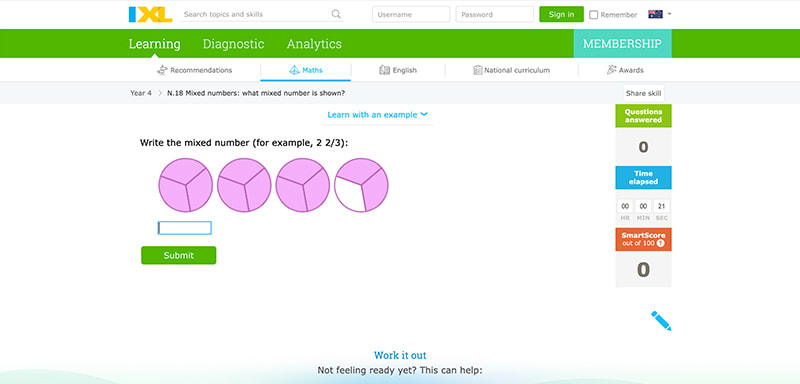 IXL Math is a comprehensive math app for kids aged 2-12. It's great for practising specific skills or concepts that your child might be struggling with. The app offers over 5,000 math activities which are all aligned with all Australian school curriculums.
Another advantage is you can select your child's ability level and the type of questions you'd like them to answer. There's also a progress tracker to monitor growth, and an awards system to keep them motivated.
A subscription is required to use IXL Math, but there is a free trial available so you can try it out before you commit.
9. DoodleMaths
Designed by a team of teachers, DoodleMaths is an award-winning app that's suitable for kids aged 4-14 years. The app encourages kids to use their mathematical reasoning skills to solve puzzles and problems.
DoodleMaths also uses adaptive learning technology, adjusting the level of difficulty to match each child's individual ability.
As part of the parent connect app, you can see what areas your child is struggling with and where they need more practice. It is one of the best math apps for analysing your child's understanding, effort and progress. You can even create rewards and assign custom math problems.
10. Elephant Learning Math Academy
The Elephant Learning Math Academy promises a year's worth of math in just 3 months - based on their 30 minutes per week program. It is a subscription-based app, starting at $70 USD per month.
The app uses an adaptive learning approach, starting with the basics and gradually increasing in difficulty as kids master each concept. They provide a collection of fun math games, automated alerts and detailed progress reports to measure key skills.
One of the best features of this app is that it provides an individualised lesson plan based on your child's performance. The system identifies learning gaps and recommends specific maths practice activities to help close them.
11. Buzzmath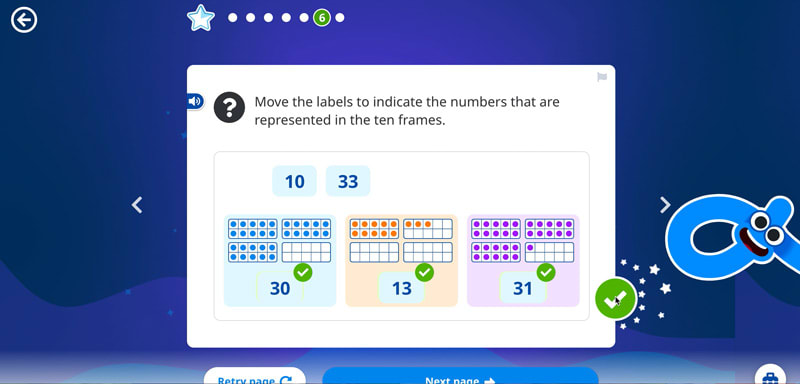 Aimed at students aged from 6-16, Buzzmath is one of the most comprehensive math apps available. Developed by educators, it includes over 14,000 math exercises, where students embark on a mathematical adventure, helping an inventor named Alfred save the city, Mathlantis.
The app uses game-based maths questions to teach arithmetic operations, with rewards and badges on offer for progress made. Perfect for kids looking to improve problem-solving and strategic thinking skills.
Buzzmath also provides detailed reports, so you can track which math problem is causing the most difficulty and where your child is excelling.
While the app is free to download, you will need to sign up for a subscription to unlock all content.
App collections
12. DragonBox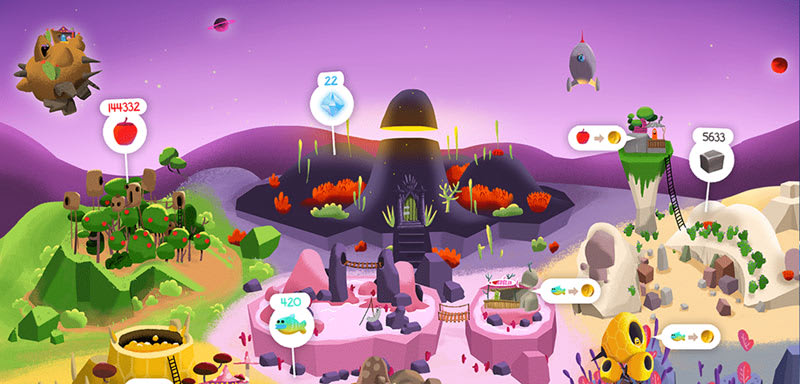 Developed by Kahoot!, DragonBox offers a unique experience to teach kids math. There are currently 7 DragonBox apps available, each focusing on a different area of mathematics.
Available on both the app store and google play, this collection is a great option for parents who want to supplement their child's math education without breaking the bank.
There are 4 apps for children aged 4-8, and another 3 for those 8 and up. Children learn algebra, multiplication and even how to play chess!
13. Splash Math
The Splash Math app (Splash Learn collection) is designed for kids in kindergarten through 5th grade and covers a wide range of topics, from counting and number recognition to fractions and decimals.
Each lesson in the app is broken down into small, manageable steps with clear instructions. This makes it easy for kids to follow along and understand each concept.
The app also features engaging graphics and sound effects, as well as progress tracking so parents can see how their child is doing.
One downside of this app is that it does require a subscription to unlock all content. However, there is a free trial available so you can explore the app before making a commitment.
Learning Tools
14. Math Learning Center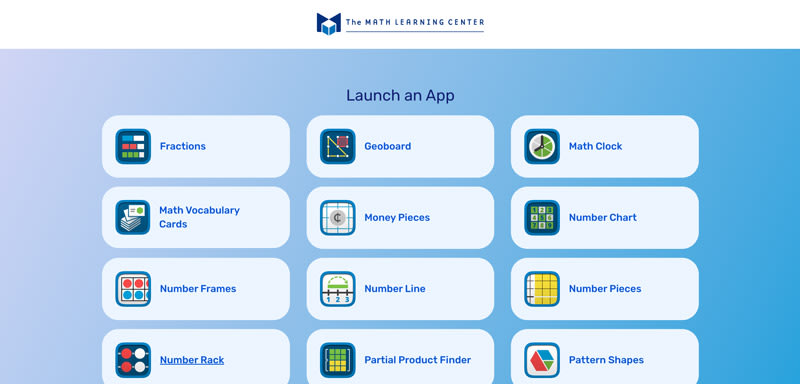 Although the Math Learning Centre is not a gamified app, it is a website that provides resources for parents to use with their children. It includes printable worksheets, manipulative tools, and games that focus on developing computation skills.
The Math Learning Centre has over 13 individual apps, as well as material for kids of all ages, from early childhood math activities to the high school level.
If you're looking for some free interactive flashcards, the math vocabulary cards are a nice starting point. They cover various keywords your child needs to know, with accompanying pictures.
A huge bonus with this one is that there's no sign-up required, so parents and kids can get started straight away, directly from the web browser.
15. CK-12
This website is a little different from the other math apps for kids on this list. It's more like an online library of resources, with over 10,000 free educational materials.
The resources are aligned to US state standards and range from kindergarten to grade 12. They include interactive activities, videos, texts and simulations.
Subjects available are not just limited to Math, there are also Science, English and Social Studies materials. The CK-12 Foundation even offers Open Educational Resources (OER) for those who want to create their own customized learning experience.
One downside of this app is that it does require a subscription to unlock all content. However, there is a free trial available so you can explore the app before making a commitment.
16. Photomath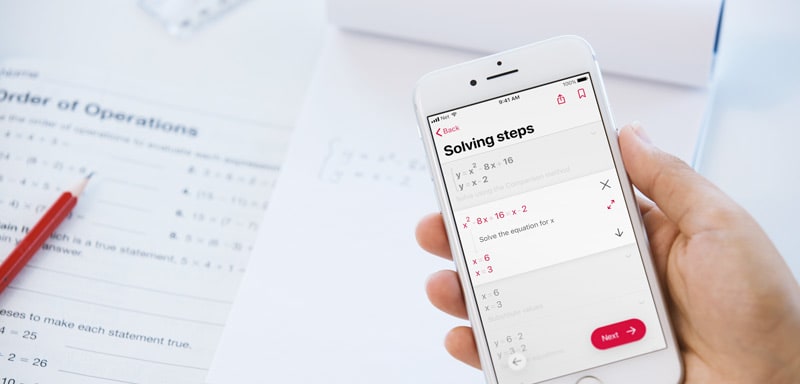 While Photomath is certainly not a gamified experience, it is easily one of the most popular math apps out right now, when it comes to solving problems. With over 300 million downloads - It's available for free on both the app store and google play.
The app uses your phone's camera to solve math problems in real-time. Just point the camera at a problem and watch as it magically solves itself.
There's also a built-in calculator and step-by-step instructions to help with more complex problems.
Photomath is an excellent tool for kids who are struggling with math, or for those who want a little extra help. It's also great for parents who want to be able to check their child's work without having to do it themselves!
Perfect for under 5
17. Moose Math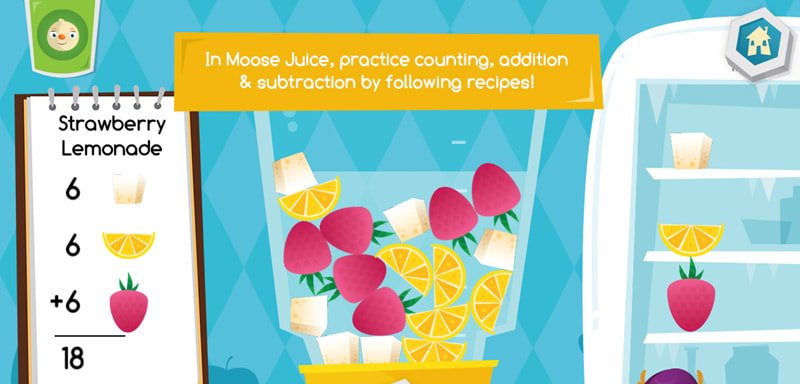 Moose Math from the Duck Duck Moose apps is a free-to-play math-focused instructional game for children. It's suitable for kids aged 3-7 and helps with number sense, addition, subtraction, multiplication, and division.
Yes - it is free to download, but there is a subscription required to unlock all features and levels.
The design of the app is great, with a cast of loveable characters that guide your child through each lesson. The lessons themselves are engaging and interactive, with plenty of opportunities for practice.
Overall, Moose Math is an excellent math app for kids and sets them up well for more advanced mathematical concepts later on.
18. Khan Academy Kids
Khan Academy Kids is a completely free app with over 10,000 activities for kids aged 2-8. It's great for building confidence and fluency in early math skills.
The app is designed by educators and child development experts, so you can be sure that your child is getting the best possible start on their journey to learn math.
There are lessons on counting, addition, subtraction, shapes, and more. The activities are all engaging and interactive, with plenty of opportunities to practice what's been learned.
One of the best things about Khan Academy Kids is that it doesn't require any internet connection to use, so you can download it and use it offline.
Final Thoughts
When choosing a math app for your child, it's important to consider their individual needs and level. Some apps are better suited for younger children, while others are more appropriate for older kids.
It's also important to think about what you want your child to get out of the app. Are you looking for an instructional tool, or something that will help them practice and consolidate their learning?
Finally, don't forget to have a look at the reviews before downloading anything. With so many math apps on the market, it can be tricky to know which ones are worth your time (and money).
If you need some more advice on how to help your child get better at maths, or are in search of an online maths tutor who can help them reach their full potential, get in touch with us today. We'd be more than happy to chat and answer any of your questions.
We hope this list has given you some inspiration for finding the perfect math app for your child. Remember, no matter your age, learning should be fun, interactive and engaging, and with these apps, it definitely can be!