Are you feeling anxious about the selective high school exam? Don't worry, you're not alone. Every year, tens of thousands of students sit the exam in the hopes of gaining a place at one of Victoria's prestigious selective schools.
While there is no guaranteed way to pass the test, following these 10 tips will maximise your chance of success.
What is a competitive entrance exam?
A selective schools test is an examination that students must sit in order to gain admission into a 'selective' high school. As proud government schools, these are some of the most prestigious and sought-after in the country, and usually require a higher standard of academic achievement than other schools.
In Victoria, this test (handled by the Department of Education and Training) is used for student selection entry in Year 9. Entry to years 10 to 12 is administered directly by the schools at the principal's discretion.
There are four selective schools in Victoria with a total of roughly 1000 places offered each year.
Selective Schools Melbourne
Melbourne High School (boys)

The Mac.Robertson Girls' High School (girls)

Nossal High School (co-ed)

Suzanne Cory High School (co-ed)
The examination format
Ability Tests
Verbal reasoning (30 minutes — multiple-choice)

Numerical reasoning (30 minutes — multiple-choice)
20 minute break
Achievement Tests
Persuasive OR creative writing (30 minutes + 5 minutes planning)

Reading comprehension (30 minutes — multiple-choice)

Mathematics (30 minutes — multiple-choice)
When is the exam?
The exam is scheduled for Saturday 15th of July 2023 at the Melbourne Showgrounds. Applications will open March 2nd. They usually close May 13th.
Late applications will be accepted up until Friday 20 May 2022 subject to a late fee of $25 in addition to the application fee ($120). Applications that are submitted after this date will not be accepted.
For more information, visit the Victorian Government website, where you can download the information pack, practice test papers and complete the online application form.
Note: It will NOT be at the Royal Exhibition Building, but this year will be held at the Melbourne Showgrounds.
How to apply?
You can apply online by clicking here. There is application fee of $120, payable at the time of registration. Parents must choose their preferred school and indicate which of the Selective Entry High Schools they would like their child to attend in the application.
Is my child eligible?
In order to be eligible you must be in your second year of secondary schooling (Year 8) and have not previously sat the examination for Year 9. You must also be an Australian citizen, a New Zealand citizen residing in Australia, or a holder of a visa or ImmiCard.
Is the selective test hard?
There is no simple answer to this question as the selective tests can vary in difficulty from year to year. However, the Victorian Department of Education releases sample tests to help students prepare for the examination. This is so that students can become familiar with the types of questions that will be asked.
Who gets in?
85% of students are accepted based on entrance exam results. 10% of enrolments are through the equity consideration category and 5% of enrolments are at the principal's discretion. Due to the limited number of places, a maximum of 4% of Year 8 students from any one school can be accepted across the four selective entry high schools.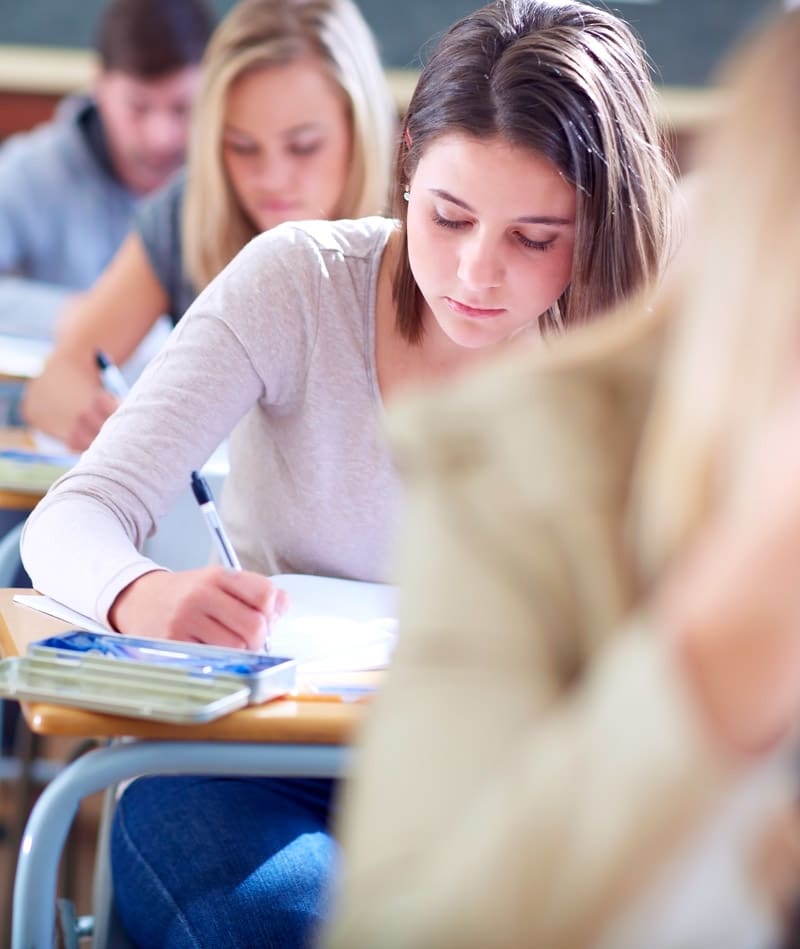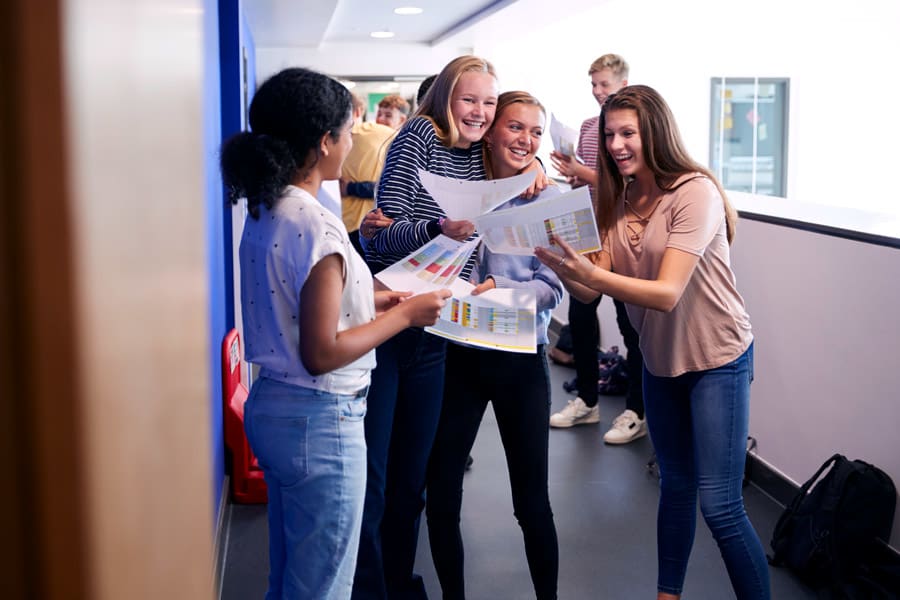 How do I pass the selective school exam?
Having helped hundreds of students over the years, we know that acing the exam isn't necessarily about a student's ability, but rather how well prepared you are. So with that said, here are our top 10 tips on how to pass the five tests:
1. Familiarise yourself with the types of questions that will be asked
Whether it's a reading test or writing task, make sure you are comfortable with the types of questions that will be asked. You'll want to complete as many practice test questions as possible, developing your numerical reasoning, writing and reading skills.
To help your child prepare for the selective school exam, make sure you both understand the structure of the exam inside out. The test is made up of two sections - an ability test and an achievement test. Get to know both really well.
2. Answer all questions and pace yourself
There is no penalty for incorrect answers, so it's important to complete every question, even if you're unsure of the correct answer. Never leave an answer blank. Pace yourself throughout the exam and give yourself time to complete each section. Don't spend too much time on one question (30 seconds per question) and make sure to read every test question carefully.
The majority of the exam consists of multiple choice tests and not all students understand the art of answering multiple choice questions. Watch the clock at intervals - after every 10 questions (or even every 10 minutes).
If you're not confident about a particular question, try substituting the given solutions back into the problem. This technique can often help you quickly find the correct option.
3. Start preparing early
The earlier you start preparing, the better. The competition is fierce with some high performing students preparing for the entrance exam as early as 2 years in advance.
While you don't need to put in 2 years of hard work, we recommend starting your preparation at least 6 months before the exam. This will give you enough time to build up your speed, stamina and self-confidence. Remember it's never too late!
We help all our students create their own study timetable, which develops from early on, both discipline and a solid routine. This should include regular exam sessions and study periods focusing on specific topics. It's a good idea to print it out and pin it up. One on the fridge and one near the student's desk.
4. Use a variety of resources
Don't just rely on one textbook or online test to prepare you for the exam. Use a variety of resources, including online resources, practice papers and apps, to help you understand the concepts covered in the placement test. The more types of questions you expose yourself to, the better prepared you'll be.
Buy text books from year 9 and year 10 and make sure you have a handle on the maths curriculum for Year 8 and most of Year 9. Completing the chapter reviews in these books is a guaranteed way to boost your confidence before the selective school entrance exam.
5. Read books, editorial articles and take notes
Selective high schools are looking for students who are well informed with current affairs. They also want to see that you have a good understanding of the world around you. In the persuasive writing component of the selective schools exam, students are expected to demonstrate this ability.
High achieving students read a variety of books, news articles and also take notes, as they read. We suggest creating a notebook that contains a glossary of phrases and words that you can use in your writing. This nifty technique will not only improve your comprehension skills but also help familiarise you with different writing styles. Do this for 6 months and we guarantee your writing will improve.
6. Focus on your weaknesses
Everyone has different strengths and weaknesses. The key to passing the selective school exam is to focus on your weaknesses and turn them into strengths.
You can do this by using targeted practice questions and tests that focus specifically on the areas you're struggling with. For example, if you're finding the verbal reasoning section difficult, make sure you do extra practice in this area. Or if you're struggling with the mathematical reasoning / thinking skills test, seek help from an experienced maths tutor in Melbourne who can guide you through key concepts.
7. Get expert help
One of the best investments you can make is to get expert help from a tutor who knows exactly what it takes to pass the selective school exam. Someone who has ideally graduated from one of the selective entry high schools.
A good tutor will be able to identify your strengths and weaknesses and tailor a study plan that's specific to your needs. At Math Minds, we customise each session around the individual student's needs. We also provide access to exclusive online resources, practice exams and all the tricks and tips to ace the mathematical test.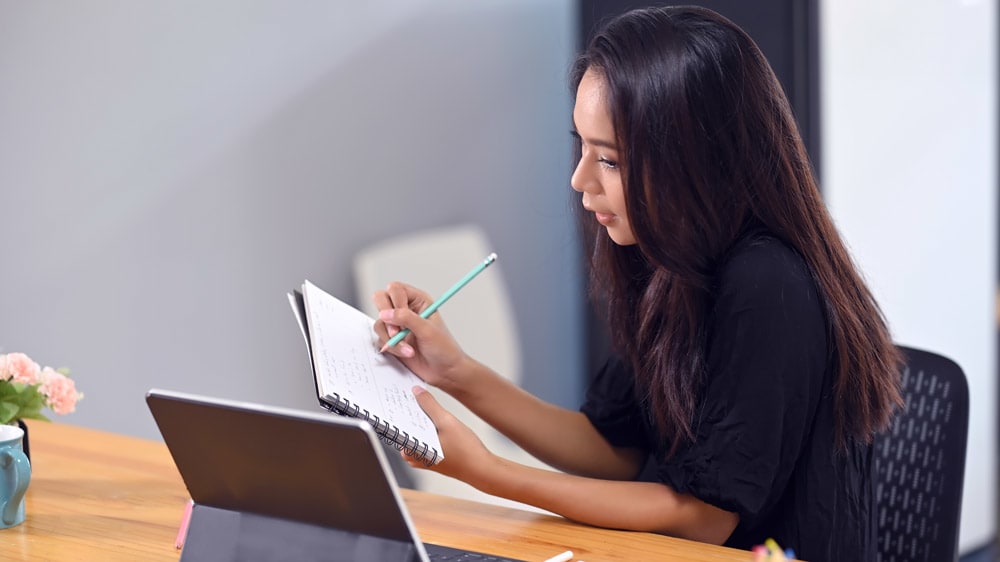 If you're serious about passing the selective school exam, we recommend getting expert help. It can be the difference between getting that selective high school placement letter or not.
8. Practice makes progress
One of the best ways to prepare for any test is to practice as much as possible. This means sharpening your verbal and logical reasoning as well as your problem-solving skills. Get into the habit of reading answer sheets, correcting your wrong answers yourself, learning from your mistakes and developing the confidence to keep going.
It's not enough to just do practice exams. You also need to analyse your work, reflect on exam success strategies and go over the answers with a tutor who has aced the entrance tests themselves. This way, you can identify any gaps in your knowledge and fill them in before the big day.
9. Revise, revise, revise (and study smart)
Revision is the key to success. Make sure you allocate enough time in your study schedule to go over old material and revisit tricky questions.
More importantly, you must take practice tests under exam conditions to get a feel for what the real thing will be like. This way, you can avoid any surprises on the day as well as develop strategies to deal with the time pressures.
10. Relax and stay calm
Stay positive throughout the whole experience. If you start to feel overwhelmed or stressed, take a few deep breaths and remember that you can do this.
Use the break between sections to relax and recharge. Get up and move around, have a drink of water, and eat a healthy snack. This will help keep you focused for the remainder of the time.
Finally, don't stress about the results. The best thing you can do is to give it your all and do the best you can. If you don't get into your first choice school, don't worry - there are plenty of other great schools out there.
On the day of the exam [bonus tip]
Get plenty of rest and eat a healthy breakfast on the test day. It's important to arrive feeling refreshed and well-rested so that you're at your best when taking the exam. Don't stay up the night before, trying to cram! Get a good night's sleep and arrive feeling calm and confident.
Be there early on and allow yourself plenty of time to enter the hall. This will help to reduce any stress or anxiety you may be feeling.
What is the average score in selective school tests?
Students should be aiming for at least 90% in the test to have a realistic chance of being offered a place at a selective high school. Anything below this and the student's chances are significantly reduced.
There is no pass or fail mark in the test, but the entrance exam results are used as a way to shortlist academically talented students. The main thing to remember is you must perform well in ALL sections of the test.
Marks should be over 90% in both the multiple choice and the written component. If you scored 100% in the mathematical reasoning test but only 70% in the writing test, you're unlikely to be offered a spot. So make sure you're honing your skills in all areas, not just one!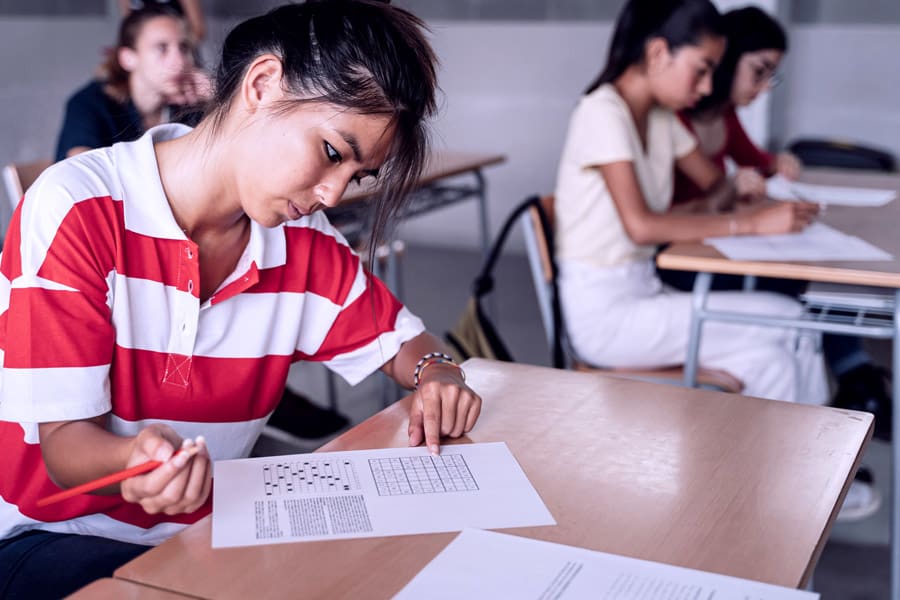 How can I prepare for the selective school test?
It's important to note that the 'the general ability' section title is a bit misleading. We've helped hundreds of students blitz their entrance exams, but their success had nothing to do with 'natural ability'.
Instead it's all about your mindset, time management, test preparation and grit. All of which are in your control. At Math Minds, we work closely with you to develop these as well create an individual roadmap for your exam preparation journey.
One-on-one tutoring is the best way to achieve a high score in the test. We will work with you to identify your strengths and weaknesses, and tailor a study plan that works for you.
Final Thoughts
When it comes to selective entry high school exams, we've helped students gain entry into Melbourne High School, Macrob, the HAST program at Balwyn High and Box Hill High School. Plus a multitude of successful scholarship exams. Some were way behind when they joined us, while others were already high performing students. Team up with us and experience the difference today.
Math Minds is not your typical scholarship exam test centre. In fact, our test prep focus is on developing mastery of the fundamentals, as much as it is revising for an exam. We've found students who have this strong foundation do exceptionally well in selective school exams.
We know how important it is to get into a selective high school and we'll do everything we can to help you achieve your goals. Contact us today to find out how we can help you not only pass the 2023 selective schools test, but ace it with flying colours.